Agriframes Discount Codes 2020
All Agriframes working offers are shown below for February 2020.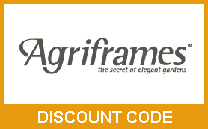 Agriframes
10% off all garden structures with code AG10-Q120
Click Here To Use Code
Offer ends 1st March 2020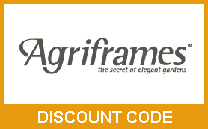 Agriframes
15% off all gazebos and pergolas with code AG15-Q120
Click Here To Use Code
Offer ends 1st March 2020
Click Here To View More Agriframes Special Offers
About Agriframes
Agriframes has been established in the gardening world for over 40 years and specialises in garden arches, pergolas and fruit cages. In recent years they have extended the range to include Grow At Home kitchen garden accessories such as greenhouses, cold frames and cloches.
The garden living range includes items which were designed by Laurence Llewelyn-Bowen.
We love the guarantee that Agriframes offers – an amazing 15 year guarantee on galvanized steel structures. We like products that last and don't just rust away and crumble the following year.
We picked out this page showing money saving ideas at Agriframes Making a Gardening Impact on a Budget
Fruit Cages
Allotmenteers could find the economy fruit cage priced at £254 very useful for their plot. These fruit cages come with steel frames and a steel door. There are two finishes to choose from – galvanised steel or galvanised with black finish. Great security from birds for your precious fruit harvest !
How to use Agriframes Discount Codes
If you have an Agriframes discount code then simply enter this on the Checkout page in the section which states "If you have a coupon code, enter it below. Your discounts will be shown on this page with your order summary".
There is a Sale section with significant reductions which can be used in conjunction with any available promotional codes.
Plot16 specialises in gardening deals and is working with Agriframes to bring you the very best discounts.
Expired Agriframes Discount Codes and Offers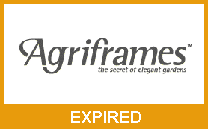 Agriframes
£5 off
Visit website
Offer ends 10th Feb 2014