Van Meuwen Discount Codes 2020
All Van Meuwen offers are shown below for May 2020.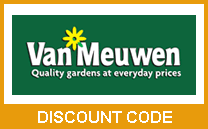 Van Meuwen
15% off when you spend £50 with code TM_VN808W
Visit website
Offer ends 31st Dec 2020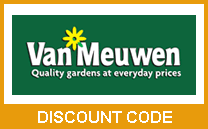 Van Meuwen
£15 off when you spend £80 with code TM_VN807W
Visit website
Offer ends 31st Dec 2020
Van Meuwen Review
The Van Meuwen name is firmly established in the UK. It is well known by gardeners for offering new and innovative varieties of plant. For example the Gigantomo tomato which is ideal for those beefsteak tomato afficionados with plenty of space in their greenhouse. These are supplied as plug plants in 10.5cm pots. You could try these on the allotment too but be sure that they are in early and in a sunny position.
Van Meuwen sells Incredibloom fertiliser at £12.99 for a 750g pack. These are slow release granules which can be added to your compost to produce flowers with up to 4 times more foliage.
Customer competitions – there is a monthly draw of £25 worth of plants for the best review. This will be in the form of an e-voucher which can be redeemed online.
For planting tips see the following page https://www.vanmeuwen.com/how-to-grow
How to use Van Meuwen discount codes
We like the Deal of the Week page with a regular new deal to keep moneysaving gardeners happy ! There is a new seed range which has been launched including 180 of the most popular and easy to grow seeds. They are priced from 99p.
Free Delivery is available on all orders over £50
If you have a code then simply enter this at the foot of the shopping basket page. There is a message which states "do you have an order or voucher code ?"  Enter the promotional voucher from our site and then click use.
Expired Van Meuwen discount codes and offers
Van Meuwen
£10 off when you spend £50 with code VMAFF
Visit website
Offer ended