Bradshaws Direct Discount Codes 2021
All Bradshaws Direct discount code working offers are shown below for March 2021.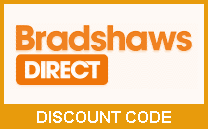 Bradshaws Direct
Free Delivery on orders over £45
Click Here to Use Code
Ends 
Click here to view more Bradshaws Direct deals
About Bradshaws Direct
Bradshaws is based in York and stocks a full range of pond equipment.
Bradshaws are stockists of a wide selection of basic pond filters, box filters and pressurised filters. There's a little bit of science behind maintaining your pond and to avoid green water you're going to have to purchase either a box or pressurised filter. The Oase filtoclear starts from £209.99 and can be positioned anywhere around your garden so it doesn't have to be visible in your pond. This has an integrated Ultra Violet Clarifier (UVC) to ensure that your pond remains clear. Alternatively a box filter also includes a built in UVC but this would need to be located above the pond water level.
Pond Pumps
If you need a filter pump, waterfall pump or fountain pump this is the place ! Brands such as Oase, Pondkraft and Hozelock are available. Things to consider are how much noise the pump makes (think of your neighbours too), how much it costs to run and how long the guarantee is for. We're sure you'll find the perfect pump to drive water to your filter.
There is also a good choice of water features which some of you allotmenteers might take a fancy to. We like the Aqua Creations flowing spring slate water feature with integrated LED lighting. Its UV resistant and also frost resistant so is good all year round.
How to use a Bradshaws Direct discount code
Once you've added items to the shopping cart simply enter your code in the Discount Code box.
Expired Bradshaws Direct discount codes
There are no expired codes at this time.